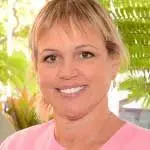 Jacqueline S. Brown, DDS
We are especially interested in making all our patients feel right at home! We put your needs first to achieve efficient and comprehensive treatment. Our staff is trained and skilled, and we strive to provide energetic and fun-loving service to each patient. Each member of our treatment team is a registered assistant, and our office staff has years of experience in treating patients with the highest level of care. We strive to stay abreast of the latest in technological advances by regularly attending continuing education courses and seminars.
---
Vanessa
We are lucky to have Vanessa as our office manager. She is a welcome breath of fresh air with her upbeat attitude and knowledge of many aspects of dentistry. Vanessa is extremely knowledgable in the dental benefits side of things and spends a lot of time researching your dental insurance and will educate and explain to you in detail your coverage. She will optimize any benfits you may have. She has been in the dental industry over 25 years and is always very professional and efficient. Vanessa loves spending time with her husband, James, and daughter Kelsie and enjoys karaoke, reading, photography, music and movies.
---
Thank you for visiting us!
Jacqueline S. Brown, DDS, Honolulu, Hawaii.